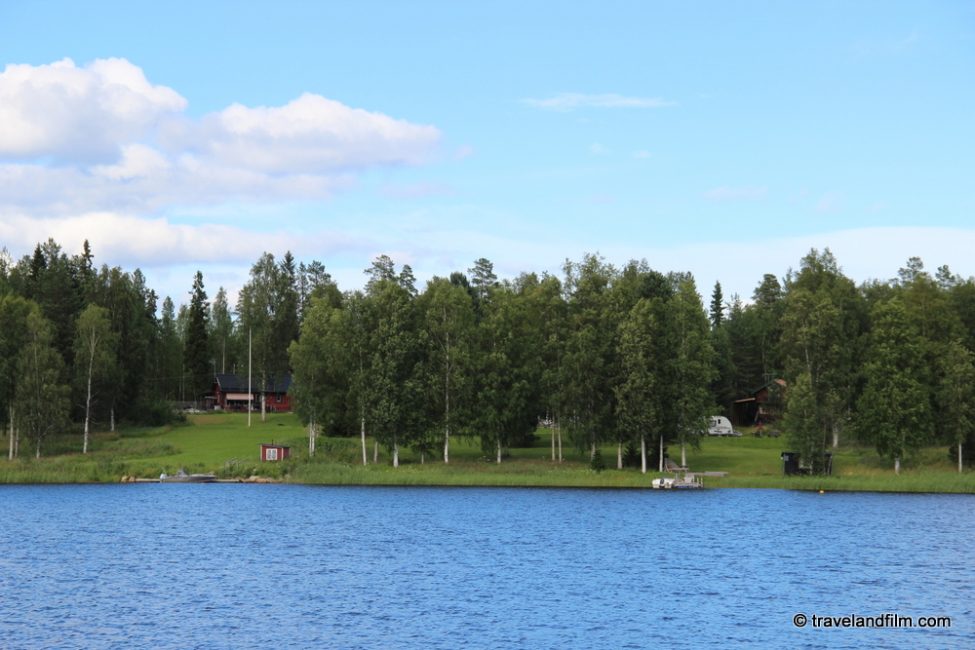 Swedish Lapland is a region located in the North of Sweden; Lapland is a big territory located as well in Norway, Finland and Russia. People say that is where Santa Claus is from! Actually, you can eat reindeer there and it's very tasty. In summer, there are so many outdoor activities you can do: if you are up for sports and adventures, then it is the place for you. I spent 3 days exploring Luleå and its archipelago. Here are some advice:
Kayaking around Luleå archipelago
Kayaking around Luleå archipelago is a nice way to discover the surroundings islands from the water. Spending a whole day on a kayak in the archipelago is very nice in summer.
You can have a one day tour organised with lunch on the beach, and you can even swim, the water temperature is not that cold: around 19 or 20 degrees Celsius. But be careful with the mosquitoes, bring some repellent with you. You can have this excursion organised by Creactive Adventure.
Sandön / Klubbviken island
Sandön is a nice island in Luleå archipelago. Sandön means sand island in swedish so the island if full of sand. The best way to explore it is by fat bike. Fat bike is a bike with big fat wheels, so you can drive easily on sand, but also on ice, in the forest and on water as well. You can book your tour around the island with Fat Bike Adventures.
But I must warn you, you should be in good physical condition because it's not easy. I was very tired afterwards, but you will get very nice views, beaches and forests.
In the main village Klubbviken on Sandön island, you can eat at the restaurant, service is not very good but food is good.
You can also sleep on the island in one of those nice little cottages with sea views and the sound of the waves. They also have a sauna, absolutely great to relax after a day on a fat bike for example. You go into the sauna and then you can swim in the cold sea right after, absolutely great!
Visiting the city of Luleå
Luleå is a nice quiet town by the sea. You can go walk along the bay, anytime of day or night, since it's never night in summer and you can enjoy midnight sun. Luleå is the departure point for adventures in the Bothnian gulf and the islands of the archipelago.
If you are a geek or facebook addict, guess what? It is in Luleå that all facebook pictures of Europe are stocked, so the hard drives are in a cold place.
Midnight sun
Swedish Lapland is the ideal place to watch this incredible phenomenon called midnight sun. In summer, it's almost always light out, you will never go back home when it's dark 😉 ! It's weird when we are not used to it, we loose notion of time and I could not sleep much. Look at this picture, it was taken at midnight precisely:
A few hours later, it's sunrise, around 2 am.
But all night, it's never dark, it's like if the sun was setting and staying right behing the horizon, so it's always light out, it's magical! This phenomenom happens in summer, these pictures were taken on July 20th.
Gammelstad, churchtown
Gammelstad is a church town and was put on the Unseco World Heritage list in 1996. It is actually the old town of Luleå. In the XVIth century, the farmers had to go to church regularly. But since, they were too far to do the trip in one day, they were allowed to build a little house to spend the night, People would meet here on Sundays for th Big Mass and any church related events. That is why Gammelstad has a big church from the XVth century surrounded by little houses.
Visiting Luleå and its archipelago, practical tips :
How to get to Luleå :
There are several direct flights from Stockholm which I highly recommend you visit. You can read my tips of the best places to visit in Stockholm. You can also take the night train.
Where to sleep in Luleå :
I spent two nights at Clarion Sense Hotel, a nice hotel in the city center of Luleå. And I highly recommend the spa with a pool with a panoramic view on the town of Luleå . The 4 seasons sauna is awesome, perfect place to relax after intense outdoor activities in summer or in winter.
Where to eat in Luleå :
The restaurant from Clarion Sense Hotel : Kitchen and table has delicious specialties and great cocktails at the bar.
Friends cafe is a nice place to have a quick meal or to eat fika, the traditionnal Swedish coffee and cake.
CG bar and restaurant has great meals with delicious incredible flavors. It is the best meal I had in all of Sweden.
Max burgers is the burgers fast foods of Sweden. It's so good that it makes McDonalds close, can you imagine? And guess what, this Max in Luleå was the first in all of Sweden. That is where the Max story begin! But now you can find them everywhere in Sweden and in the neighboring countries.
Note: I was invited for this trip with 5 other travel bloggers: Dave (Travel Dave), Inma (A world to travel), Viktoria (Chronic Wanderlust), Andreja (Adventurous Journeys) et Sonja (Migrating miss) with TBEX (travel bloggers conferences) but all the content and tips are my own opinion. The trip was organised by Visit Sweden. Special thanks to Fredrik Broman for his pictures, his kindness and professionalism during the whole stay. If you are interested, he organises safari tours with glamping in winter for the northern lights: Aurora Safari.
Par Emilyz
Voyageuse cinéphile et réalisatrice, Emily parcourt le monde et partage ses voyages à travers des documentaires, des photos et des articles sur son blog.
Rejoignez-la sur son profil Google+
Voyageuse cinéphile et réalisatrice, Emily parcourt le monde et partage ses voyages à travers des documentaires, des photos et des articles sur son blog.
Rejoignez-la sur son profil Google+